On view 
September 28, 2018 — March 3, 2019
Venue Theater Gallery, Marciano Art Foundation, Los Angeles
Here it is: Ai Weiwei's first show in LA.
He'll be revealing a major, unseen new work – Life Cycle – alongside 2 iconic older pieces. Life Cycle is Ai's response to the global refugee crisis in epic sculptural form. The other 2 works you'll be able to see are Sunflower Seeds (2010) and Spouts (2015).
Life Cycle references Ai's 2017 work, Law of the Journey. In Law of the Journey Ai rendered a monumental piece, featuring a heavily over-crowded set of refugees in a lifeboat. The piece was rendered from a rich, solemn PVC plastic inflatable.
In Life Cycle Ai repeats this form but swaps out the inflatable PVC for a traditional Chinese bamboo & silk kite-making method. It's this medium which underpins the entire work. The works were each hand-crafted in Weifang in Shandong, a province with a tradition of kite-making which dates all the way back to the Ming Dynasty ~14th–16th centuries.
Surrounding the boat, suspended many metres in the air, are mythical creatures Ai has been working on for several years. The creatures are from Shanhaijing – the Classic of Mountains and Seas, the earliest records of which date back to 4th century BC.
The installation represents Ai's ongoing research and artworks about the refugee crisis. It build upon his recent feature-length documentary, Human Flow, and book, Humanity.
The show also features Sunflower Seeds and Spouts. If you haven't seen these pieces before and have the opportunity to, we strongly suggest you check them out.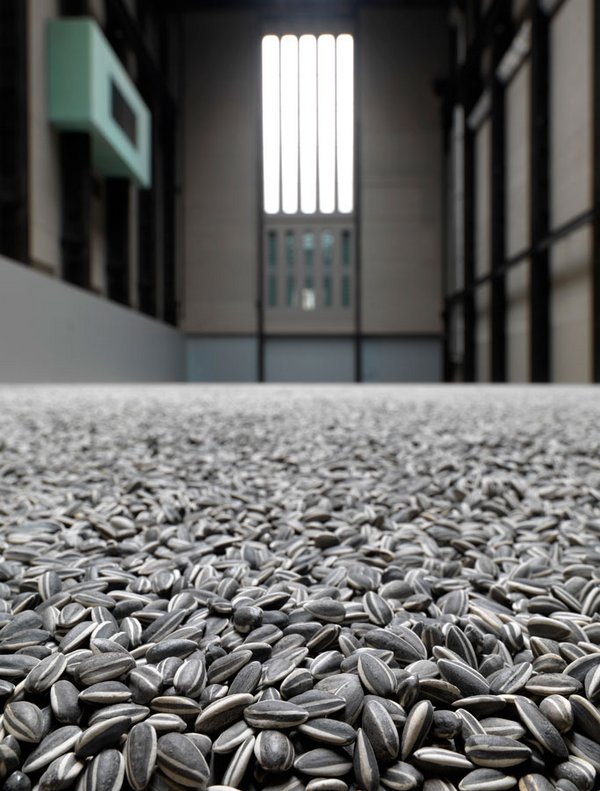 Sunflower Seeds displays 49 tons of porcelain sunflower seeds, each individually crafted to be unique by over 1600 expert porcelain craftspeople from Jiangxi. When I first saw this work I genuinely couldn't tell they weren't real seeds! The work touches on themes of the individual's role in society as well as the vastness and incredible productive capacity of the Chinese people.
Spouts was first shown in 2015 and brings together thousands and thousands of antique teapots spouts. The spouts date back as far as the Song Dynasty, beginning in the 10the century BC. Here, the spout acts as a metaphor for a mouth, and at scale symbolises the yearning of so many millions for freedom of speech in the face of widespread reduction across the world.
The show looks like it's going to be absolutely incredible. To stay up to date with it, we suggest checking out Ai Weiwei's Instagram feed where he posts ongoing, exclusive videos and photos of the show.
If you're interested to hear more about shows like this or about Contemporary Chinese Art in general, join thousands of others and sign up to our bi-weekly newsletter.